DHA ORIGINS®, sustainable omega-3
for natural health
HIGHEST NATIVE NATURAL OMEGA-3 ON THE ALGAE MARKET
100% sustainable strain of microalgae
✔ French origin
✔ Harvested only once in nature
✔ Infinite, renewable production capacity from a self-replicating resource
✔ Low impact on biodiversity and marine resources
✔ The purest natural vegan omega-3 straight from the original source : Schizochytrium sp.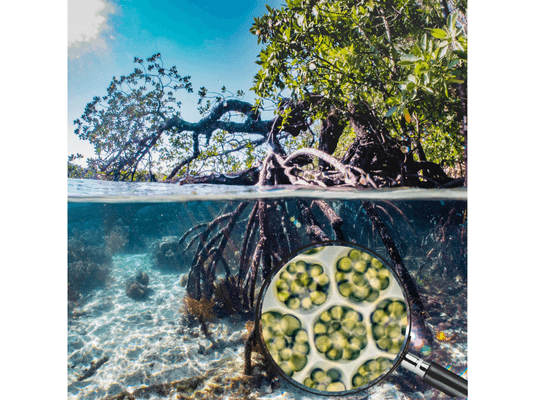 ✔ Health benefits : products good for humans at all stages of life

 
Omega-3 essential fatty acids are vital for the correct functioning of the human body. To get sufficient for the proper functioning of our bodies, they must be sourced from the food we eat.The benefits of omega-3 are scientifically recognized and proven by over 4,000 studies.
Docosahexaenoic acid (DHA) is the subject of European claims (EFSA : European Food Safety Agency) relating to :
cognitive

,

cardiovascular

and

vision

health;
It is well-recognised that EPA and DHA have important functions throughout life, from the pre- and post-natal periods through to old age.
✔ The conscious consumer : products good for the planet
Consumers are seeking :
natural active ingredients,

traceability

of the

production chain

and

quality assurance

.
Consumers who want to live well and look after their health also take into consideration their environmental impact.
Fermentalg thus follows its principles of respecting the environment and protecting biodiversity to meet growing consumer requirements for sustainable, healthy, natural and environmentally friendly food solutions for everyone, with benefits throughout every stage of life.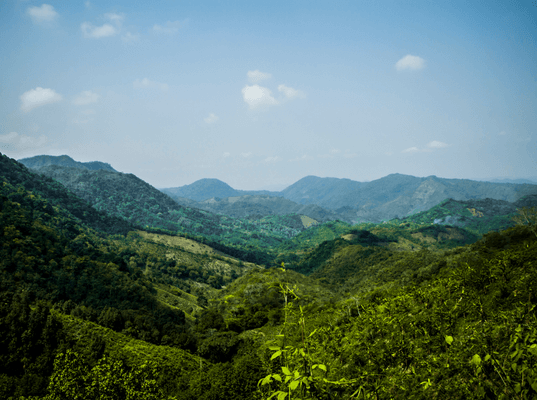 ECO-FRIENDLY MANUFACTURING
✔ Clean source : Environmentally-friendly source 
Thanks to the natural ability of these cells to duplicate themselves, only one specimen needs to be taken from nature to produce DHA-rich oils indefinitely, and limitating our impact on the biosphere.
We produce concentrated natural products through sustainable and sterile processes with strict quality control, minimising the footprint of our oils relative to, for example, fish oils.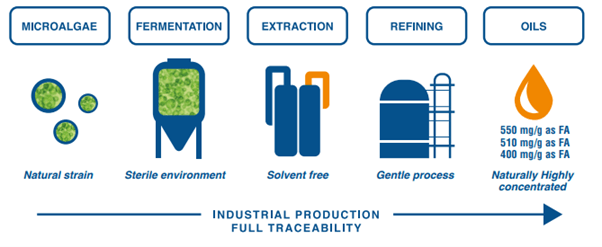 ✔ Clean process : Natural products
The industrial fermentation procedure to grow this microorganism takes place in Europe in large, sealed, sterile, above-ground bioreactors (vertical tanks).
Using a solvent-free extraction-separation process, the lipids contained in the cells can then be released. We obtain the highest native naturally occurring DHA content without chemical concentration or purification steps.
✔ Clean label : Full traceability 
Our DHA ORIGINS range is produced using methods that avoid harsh processes and preserve the native aspect and properties of the active ingredients.
According to our quality and safety standards, we guarantee complete traceability end to end.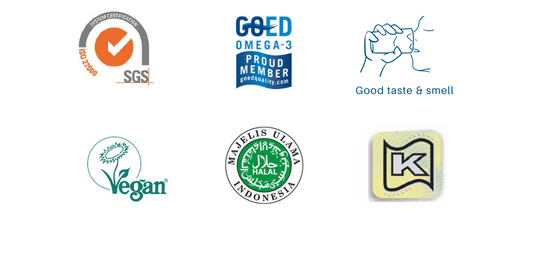 Our products are certified Novel food (EU) and FDA GRAS (USA) for use in :
Infant formula

Nutraceuticals

Functional foods

Specialized foods
      In Europe 2021, EFSA allows our products to be used in
Infant food 

Nutraceutical applications at

:

1g/day

for adult populations

(4 x the minimum recommended daily intake)
Thanks to our high natural concentration of omega-3, you can offer your customers a smaller, easier to swallow dosage form for health nutrition :
Liquid form 

softgel, drops, gummies, syrup,

infant food, plant-based food, analogue foods…

Powder form

stiks, beverages, tablets, hardgel, infant food …
OMEGA-3 : DHA ORIGINS® RANGE
Our DHA ORIGINS® range offer naturally concentrated products with the highest levels of omega-3 in its naturally occurring triglyceride form (>90% Fatty acids in TG).
Oils : from 400 to 550 mg/g of DHA as FA

orange : with natural carotenoids

yellow : without carotenoids

Powder :

170 mg/g of DHA as FA

Softgel : 250 mg of DHA as FA/ capsule
MORE INFORMATION ON DHA ORIGINS®? CONTACT US NOW!